Page 2 of 2 •

1, 2
Results of four InstaForex contests summed up
We have determined winners in four InstaForex contests: One Million Option, InstaForex Sniper, FX-1 Rally, and Lucky Trader. We warmly congratulate the victors and wish other participants to find their names in future contest digests.
One Million Option
The One Million Option InstaForex contest, beloved of traders, gathers lots of participants at every stage. They compete fiercely for the title of the best option trader. Vladimir Ivan Melestean from Moldova showed the best result in the recent round. The next step will take place from October 2, 2017 to October 6, 2017.
InstaForex Sniper
To hit a bull's-eye is the point of the InstaForex Sniper contest. It is one of the most popular and accessible InstaForex contests attracting more and more traders with every round. This time, MD Tariqul hasan from Bangladesh clinched a victory in a good trading fight. We congratulate the winner and wish other contestants luck. The next step of the InstaForex Sniper contest will run from October 2, 2017 to October 6, 2017. Challenge your accuracy right now!
FX-1 Rally
Vladimir Gennadievich Dyatkovich showed the best performance in the latest stage of the FX-1 Rally contest. Vladimir displayed all his trading and racing skills. We congratulate the winner with the great result and wish him luck in future rounds. If you want to take part in an intense competition and feel the thrilling race for leadership, then welcome to the start of the new FX-1 Rally round! It will kick off at 00:00 on October 6, 2017 and will come to an end at 23:59 on October 6, 2017.
Lucky Trader
Confidence, prudence, and orientation towards success are the key to winning the Lucky Trader marathon. If you manage to trade smoothly for two weeks, you will be able to win the Lucky Trader contest, just like Vladimir Shabrat did it. The next stage of the Lucky Trader contest will start on October 2, 2017 and finish on October 13, 2017.
Learn more about contests
Photos and comments of the finalists
InstaForex takes part in annual ShowFx Asia-2017 event in Singapore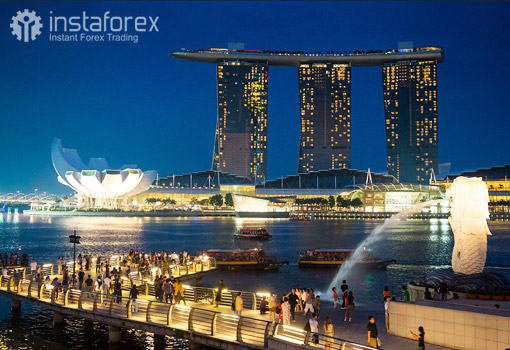 Dear clients, partners, and everyone willing,
We invite you to visit a financial conference of
ShowFx Asia in Singapore,
which will be held on October 21 in one of the best and most fashionable hotels in the world - Marina Bay Sands. This special event is devoted to various aspects of work in financial markets: from foreign exchange and futures trading to stock markets and CFDs.
Traders will get a chance to increase their professionalism and unite with other participants of the forex community for the exchange of knowledge and experience. Being one of the market leaders and a permanent partner of ShowFx Asia, InstaForex has prepared a rich program for the conference. For instance, guests will be able to take part in educational seminars and trainings from guru analysts of our company and reputable experts of financial markets.
Other participants of financial markets, including developers of specialized trading programs, will also take part in the ShowFx Asia conference in Singapore. Ttraditionally, InstaForex is going to please its guests with valuable prizes like gadgets and bonus certificates, which will be raffled off at our booth. Note that the Singapore ShowFx Asia conference is a unique opportunity to get acquainted with companies providing brokerage services in the forex market and get a chance to exchange experience with other traders in an atmosphere of Asian luxury and technological progress. We will be glad to see you at the conference in Singapore!
From now on, you can trade #Ripple and #Litecoin with InstaForex
The market of digital currencies has been booming for a few recent months that inspired InstaForex to extend the list of trading instruments with more cryptocurrencies like Ripple and Litecoin.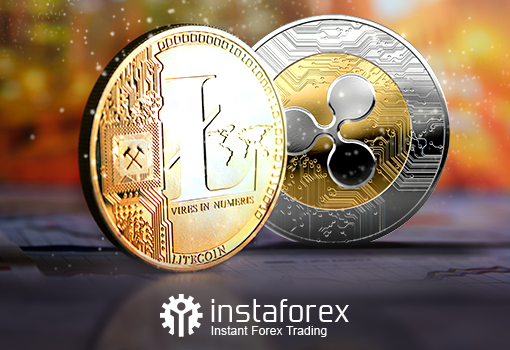 Ripple is a currency of the global payment network, currency exchange, and remittance. The Ripple Transaction Protocol has been increasingly adopted by the financial sector as it offers banks a more secure and nearly free method of financial transactions of any size around the globe. A transaction is confirmed in less time than four seconds. This efficient payment system is capable of processing up to 1,000 transactions per second.
Ripple has been already spotted by Asian financial institutions. Some banks in Japan have been using the Ripple protocol. In early 2017, The National Bank of Abu Dhabi (UAE) showed an interest in it. The Ripple's value skyrocketed by almost 3,000% to $0.2 by autumn 2017 from $0.0065 in the start of the year. The price per coin is steadily increasing. The cryptocurrency finds support from banks that suggests a bright outlook, so Ripple is likely to become an excellent instrument for long-term investment.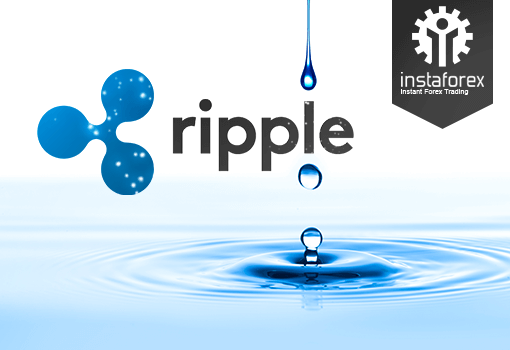 The other trading instrument which has been added to the list is CFD on Litecoin, one of the most liquid cryptocurrencies. Litecoin is included in the top crypto coins with high capitalization.
Litecoin was invented as an improved version of Bitcoin. Developers implemented notable differences. Compared to Bitcoin, Litecoin features faster transaction confirmation times (2.5 minutes that is 4 times shorter than with Bitcoin) and improved storage efficiency.
This instrument arouses interest among investors as a lucrative asset for the long term.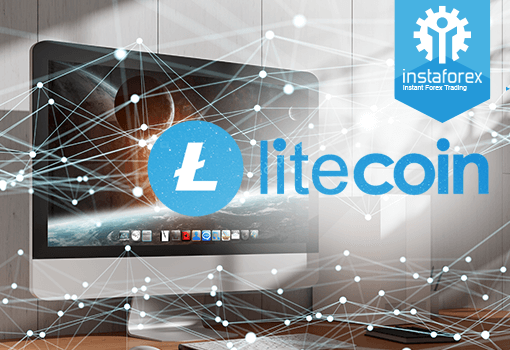 The new trading instruments are available on the InstaTrader platform under the following tickers, #Litecoin and #Ripple.
Importantly, a weighty advantage of CFDs is safety. You gain profits from price fluctuations of an asset. You do not have to buy and sell cryptocurrencies. Therefore, you should not worry that someone will steal them.
InstaForex always keeps track of the latest developments on Forex so that our clients are provided with modern advanced trading instruments.
Miss Insta Asia 2018
The administration of the Miss Insta Asia beauty contest announces the start of a new season – Miss Insta Asia 2018!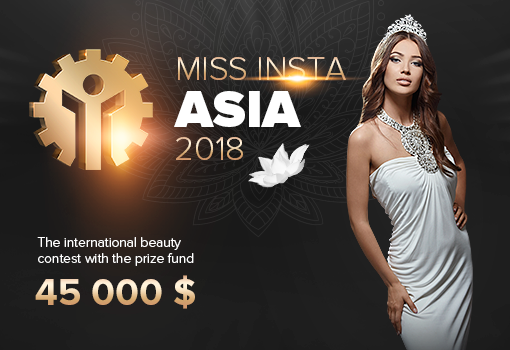 Every season, registration starts on October 1 and ends on September 1 of the next year. The contest's prize pool makes up USD 45,000. Maybe it will be you who will share this sum with other finalists. All you need is fill in a registration form, upload your photos and videos, tell about yourself, and see your likes increasing!
As usual, your success depends on InstaForex traders and visitors of the contest official website, who will vote for the ladies they like. Besides, Instagram users can also appreciate Miss Insta Asia contestants. You can read more about the contest and voting rules of the Miss Insta Asia beauty
contest on.
We are looking forward to your profiles and wish you luck!
Winners of four InstaForex contests determined
We have determined four winners of the recent rounds in the following InstaForex contests: One Million Option, FX-1 Rally and Great Race. InstaForex congratulates the victors on great results and wishes other contestants to keep trying!
One Million Option
Being one of the most beloved InstaForex contests, One Million Option attracts lots of participants who compete for the title of the best option trader fiercely. According to the results of the recent step, Vladimir Kurilenko from Ukraine had the highest score. The next round of the InstaForex One Million Option contest will kick off very soon on October 23, 2017 and run until October 27, 2017.
InstaForex Sniper
To hit the bull's-eye is the key to success in InstaForex Sniper, which is probably one of the most popular and easy-to-understand InstaForex contests. The trading competition gathers more and more participants every week. This time, Dmitriy Koksharov managed to notch up victory. We sincerely congratulate the winner and wish other contestants luck. The next step of the InstaForex Sniper contest will be held from October 23, 2017 to October 27, 2017. Challenge your accuracy right now!
FX-1 Rally
Aleksandr Grigoriev employed all his racing and trading skills and showed the best performance in the last round of the FX-1 InstaForex Rally. We congratulate the victor on his brilliant result and wish him to keep winning. If you want to experience a thrilling fight for leadership, join the upcoming step of FX-1 Rally! You can register for the next race that will take place from 00:00, October 20, 2017 to 23:59 October 20, 2017.
Great Race 2017
Guissepe Francisco Cordano Cajas from Peru won the recent round of the Great Race 2017 contest. We congratulate the winner and other traders who took prize places in the latest step of the Great Race annual marathon.
Learn more about contests
Photos and comments of the finalists
Page 2 of 2 •

1, 2
---
Permissions in this forum:
You
cannot
reply to topics in this forum